Join the ScareLA Team!
We want your brainz and your muscles – ScareLA is built on the passion of the entire LA Halloween community. We are looking for bright men and women to join us in creating an amazing event and a proud SoCal tradition. Please complete the form below to apply!
PLEASE NOTE, OUR 2016 VOLUNTEER LIST IS NOW CLOSED.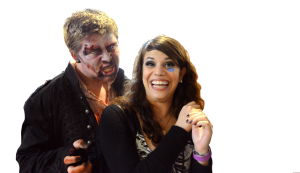 A weekend Scare Student ticket will be awarded to each team member who completes a minimum of 3 event shifts. Other perks include: limited edition shirt, insider's access, an amazing team and more! You must be 18 years or older as of Aug 5, 2016, have a valid driver's license and means of transportation.
Questions? Contact: volunteer@scarela.com
Volunteer Application